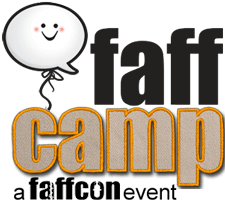 From the creators of FaffCon… coming this May to the Omni Hotel in Charlotte. An event like no other in the voiceover industry… FAFFCAMP! Three days of what will prove to be the most educational experience available to both new and experienced voice actors and industry professionals.
You won't have to look very far to find people who say that FaffCon has changed their life. In fact, look to some of my past blog posts and you'll see that I have nothing but love for the event and everyone involved. I have no doubt that FaffCamp will prove to be as educational, fun and life changing as FaffCon has been. But, what is the difference between the two?
Those who have experienced FaffCon know that when you arrive for the opening circle presentation, there is an empty grid posted upon on a wall as you enter the room. That grid is then filled with session topics by the participants on the first night. With FaffCamp, that grid has been completed for you. No more tape and index cards. Session topics have already been planned, organized and scheduled. This preplanned format is essential for FaffCamp. It ensures that voice actors at all levels can gain maximum benefit from the event and not miss a single opportunity to learn or share their own experiences.
Another new feature is the Expo stage. For those familiar with the breakout sessions at FaffCon, where specific topics (as decided by the attendees) are discussed. The Expo will provide that same experience. However, and here is the best part, you won't have to sacrifice one experience for another or be forced to choose between two equally appealing sessions. The expo will make every experience available to you, and within whatever time frame works best for you.
Each expo speaker will have a time slot on the expo stage, but they will also be available throughout the weekend to offer their time and expertise from the expo area.
Have you been looking for information on getting ongoing voiceover training? Joey Schaljo will be available to discuss opportunities with Edge Studios. Do you want to treat your recording space for better acoustics? Details about Dan Lenard's Studio Suit will be available. Maybe you need a better way to get your demos up on your website? Voicezam to the rescue!
Speaking of demos, Cliff Zellman will have some exciting news about a great new way to create the best voiceover demo you've ever had. Representatives from the new organization WoVo (World Voices) will be there. I will also be there to offer assistance in all things voiceover, from studio to performance. Need a copy of "Sound Advice – Voiceover From an Audio Engineer's Perspective"? I'll have them. I will also be there representing Voicebank. Their Weekend Workout and Premium programs are great ways to get heard… by some very important people.
Also at the expo, audio editor Eric Souer, Rob Sciglimpaglia's book "Voiceover Legal" and John Florian from the voiceover industry's most popular website, Voice-OverXtra. Need a very cool timer for your studio? Of course you do! Bowman Technologies has large screen timers that are perfect for ensuring your deliveries make it in :30 or :60. Bowman Technologies will be at the expo!
There are a number of other new and exciting things planned for FaffCamp, and I don't want to give it all away here, so you'll have to be there to experience it all.
FaffCamp is just around the corner and it is an event you will not want to miss. Join us on May 3rd, 4th and 5th in Charlotte and discover why FaffCamp is the one event that is unlike any other in the voiceover industry.