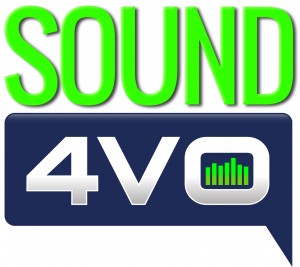 In best movie trailer voice:
SIX RANDOMLY SELECTED TEAMS … SIX TOP PRODUCER/MENTORS … ONE TASK, PRODUCE A 60 SECOND COMMERCIAL … WITH NO SCRIPT … IN LESS THAN 24 HOURS!
Okay… let's bring it down a notch. 🙂
VOAtlanta was, once again, an incredible event filled with great opportunities for learning, networking and entertainment (Did you see James Arnold Taylor's one man show? AMAZING!!)
The greatest thrill for me was leading a team in the first ever VOAtlanta Team Challenge. Our task was to produce a 60 second commercial spot promoting next year's event. The rules: Must contain the word "Elevate". Must contain a minimum of three voice actors who each have at least ten seconds of copy. Must (if needed) use music and sound effects found on the audioblocks.com website. The teams were selected at random. No script was provided and all of the mentors were limited to the equipment we brought with us or to what was available at the conference.
Once the teams were assigned, the first challenge was locating everyone on the team. With so much going on, it took awhile to simply get everybody in the same space to begin collaborating. Next, develop a concept and write a script. My team was amazing. Everyone contributed ideas that were instrumental in turning a simple concept into something tangible. Our ideas flowed and our script came together very quickly. We all felt really good about where we were headed.
The voice booth sat in the extremely noisy expo room. While crowd noise was definitely a problem, using that booth during that time period was our only viable option. Once each team member recorded his or her script, it was time to put the pieces together. With nothing more than a laptop, a pair of headphones and (thankfully) my favorite DAW, the work of editing began. The voice actors made this part easy. There were not many takes to choose from, but plenty of great takes from which to choose. AN ENGINEER'S DREAM!!
Next, search for sound effects and music and mix the spot. As a group, we discussed music choices and why one cut of music may be more suitable then another. We also discussed the basics of audio processing. While I had my favorite DAW, I did not have my favorite suite of Universal Audio processors and plugins. But, this competition was all about learning and working outside of our usual routines. Not just for my team, but for me as well.
Throughout the entire process, my primary concerns as team leader were that the process was educational and fun. I believed those goals had been met. I was proud of everyone on the team and happy with the spot we produced … and then something else happened. By Sunday morning, the votes were in … we knew WE HAD WON!!
Everyone on the team received prizes from Sennheiser, Kaotica and FREE REGISTRATION to VOAtlanta 2016. I knew our efforts would be recognized, but this was more than any of us could have imagined.
CONGRATULATIONS to VOAtlanta 2015 TEAM DAN: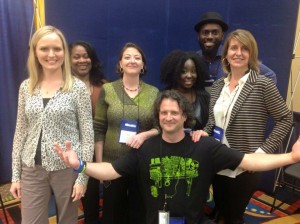 Lynn Marshall
Keri Horn
Geston Pierre
Camille Hunter
Nicole Alford
Tyra Kennedy
I am honored to have had the opportunity to work with you.
Thank you to Gerald Griffith and the other mentors: Roy Yokelson, Joe Loesch, Abbe Holmes, Everett Oliver and Cliff Zellman. You are all great friends and it was my privilege to share this experience with you.
For a limited time, you can hear all of the spots here.