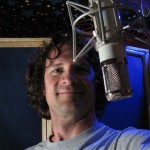 Attending Faffcon in Atlanta this past weekend was an incredible experience for me. As I drove back home last night I couldn't help but smile the entire way… good thing I don't drive a motorcycle — do I have something in my teeth Mercedes? 😉
As many of you who attended may have guessed… I really love what I do. After meeting all of you, it was so clear that all of you love what you do as well. It was great to see and hear with my own eyes and ears that each of you really care about your sound, your studios and improving them whenever and however possible. Thanks to all of you who attended and those who have supported me and my book. I really appreciate it and please feel free to comment on it or let me know if you have questions or concerns.
Now some very special shout outs!
Amy Snively – You did an incredible job organizing this event! Thank you for greeting me with open arms. Faffcon is a great event for our industry.
John Florian – It was great to meet you. Thank you so much for posting my articles on VoiceOverXtra. All of the information you provide on your site is a must read.
Mercedes Rose – What can I say… our discussion over coffee will be my most memorable moment and probably my biggest "golden nugget". As you can see I'm already putting some of it into practice. I'm a slow learner so I hope you will continue to guide me.
Paul Armbruster – I meant what I said… if it wasn't for you and your workshop, I would never be where I am today. Thank you! Thank you! Thank you!
Peter O'Connell – You are a smart and funny guy. I think you definitely gave us all some great laughs.
Randye Kaye – I know you didn't know about the book when you attended my group, so when you asked if there was a book (any book) available, you opened a door for me to talk about it without me having to feel apprehensive about doing so. It was impromptu and simply perfect! Thank you.
Pam Tierney – I really enjoyed meeting and talking with you. I know I will be talking to you again soon.
Dan Lenard – It was great to finally meet you. I really appreciate what you do to help everyone in our industry sound their very best.
Bob Souer – You sir, are truly an inspiration to us all.
To my ProComm Voices peeps – Melissa Exelberth, Rowell Gorman, Kevin Silva, Bob Souer, George Washington III and Wendy Zier – It was so great to see all of you. Thank you for the great sessions we've had and I look forward to many more in the future.
Have a great day everyone! Travel safely.
Dan