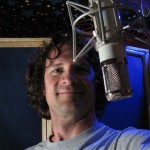 On Saturday night while most Faffers were out to dinner, Amy Snively, Pam Tierney and I sat in the mezzanine of the Crowne Plaza Hotel Harrisburg and talked. Among many other discussions, we talked about our favorite parts of the event and past events. I mentioned at one point that I thought everyone's first Faffcon would be their favorite.
Let's face it, if you've been to Faffcon, you already know you will be coming to a second and probably more after that. The only Faffcon I've missed (and therefore hope I will ever miss) is the very first in Portland, OR. It is the one Faffcon that set the stage for all others and I'm sure it will never be duplicated. However, just 24 hours after my conversation with Pam and Amy, I had an amazing experience that I will never forget.
Pam actually had offered to "hire" me to help her with her studio. We were going to go through her entire signal chain from "soup to nuts" (Pam… FOCUS!) ;-). But, as far as I was concerned, this was a great opportunity to continue faffing, so we invited others to join us in the mezzanine. About 20 of us spent over three and a half hours talking studio stuff. It was an incredible thrill for me to share my knowledge, and also learn from everyone who participated, in a truly unexpected Faffcon session. I was told later that this impromptu session captured the essence of the very first Faffcon exactly. How cool is that!
Like any "first," everyone's first Faffcon will probably always be their most memorable. However, and this is the true beauty of Faffcon, each session and event is filled with "firsts", opening up the possibility to new opportunity, new connections and handfuls of "golden nuggets" each and every time. It is truly an inspirational event. I hope that everyone in voiceover gets the opportunity to experience these "firsts" for themselves.
And now some very special shout outs:
David Goldberg – I really appreciated the opportunity to work with you and to get to know you better this time around. I know we can make things happen and I'm excited about the possibilities.
Colleen Colin – Voicebank and Voice Registry provide such a vital service to our community, I'm thrilled to be a new member. Thank you for all you contribute to Faffcon and our industry.
Pam Tierney – Your adventurous spirit and sense of humor is infectious. Thank you for all that you do for Faffcon and for your friendship.
Paul Strikwerda – Your session on blogging was fantastic. I was inspired to write an entire blog based on just one thing you said (this will be forthcoming). I know that my blog will benefit greatly from your advice.
Peter O'Connell – Your improv sessions provided me with some of the best laughs I've had in years. They also got me out of my comfort zone and offered an experience that I will never forget.
Melissa Exelberth – Where would I be without you Melissa? Probably under a table at the Firehouse. Thank you for being such a good friend and pouring me into the rickshaw on Friday night and getting me where I needed to be. I'm not ashamed to admit how much fun that night was!
Corey Snow – It was a pleasure to meet you. I know we will be talking more and working on some things in the future.
Philip Banks – Thank you for just being there. It is incredible that you traveled half a world away to share your knowledge and experience with us. While that alone would have been enough, your support for my efforts and words of encouragement were greatly appreciated. Thank you!
Cris Dukehart – I think you may have been instrumental in opening a new door for me. Thank you for that. I really look forward to getting to spend more time with you in the future.
Liz de Nesnera – I am so thankful for your friendship, support, kind words and everything else… and yes… your demo deliveries ROCK!
Cindy Neill – It was a pleasure to meet you face to face. You are always a blast to work with and I'm happy to help you (directly or indirectly) any time you need it.
Tom Dheere, Trish Basanyi and Lauren McCullough – I loved hanging out with all of you on Friday and at various times throughout the weekend. You are all ROCK STARS!
Special thanks to my ProComm family:
Amy Snively
Amy Taylor
Cindy Neill
Mike Harrison
Rowell Gorman
Zak Miller
Bob Souer
Philip Banks
Melissa Exelberth
I love you all!
Bob Souer – Your generosity, expertise, and knowledge is simply unmatched. Thank you so much for all of your kind words, support, information and help with my personal journey as well as everything you do to help make this event happen.
and… our QUEEN BEE…
Amy Snively – Words really cannot express the level of appreciation we all have for what you do and for how you have enriched all of our lives by bringing us Faffcon. Thank you for allowing me to be a part of the Faffcon crew. It is an honor and a pleasure. You literally work to the point of exhaustion and WE LOVE YOU and THANK YOU for everything!!
I would also like to thank everyone who has ever purchased a copy of:
SOUND ADVICE – Voiceover From An Audio Engineer's Perspective
Thank you so much for your support and kind words. Let me know if I can ever be of help.