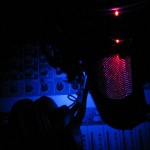 The phone company is seriously crippling us today. ProComm Voices offers 15 ISDN connections, 13 of which are exclusively toll-free. This allows other studios and voice over talent to connect with us free of charge. But today, through no fault of our own, all toll-free lines are down. Needless to say… this is not helpful. Thankfully, we have a backup plan.
Anytime there are problems that are beyond your (or in this case… our) control, the first rule in dealing with these problems is clearly stated in "The Hitchiker's Guide to the Galaxy"… "DON'T PANIC".
Even though many of our local talent connect to us via ISDN, we'll have them come in to our studios today. It will be nice to see them. Anyone who was scheduled to do a live audition with one of our producers will have to record those on their own at home. While it is always helpful to have a second set of ears on auditions, the voice talent will have to trust their own ears today (or even better, have another colleague listen). We'll notify our clients via email that it will be necessary to contact us on our local lines and that our producers will call them at session time instead of them calling us. Because this is an emergency situation, we'll use Source Connect today with our VO talent who also have it. We still have ISDN connectivity over local lines. Therefore, we will still be able to connect with our talent and if necessary stagger our schedules to accommodate sessions.
What do you do when something goes wrong that can't easily and quickly be fixed?
If you are a voiceover talent, working from your home studio, you know that there are many advantages. However, when something goes wrong, you may not have the resources to work around the problem. Do you have a backup plan? Consider these scenarios:
– Its fifteen minutes before session time and the script has not arrived yet. This is not necessarily unusual, but you wonder whether you should check on it. After a few minutes of wondering, you finally check your computer and discover that your internet is down. You aren't getting your emails. You don't have a fax machine. What do you do? What is your backup plan?
– You turn on your computer and your hard drive freezes up. Nothing happens. What is your backup plan?
– A thunderstorm blew through the area last night and knocked out all of the power in your neighborhood. You have a 9AM session with a brand new client. What do you do?
Being prepared for these and any of the multitude of issues that can occur is critical to your success when dealing with problems. Be sure you have backup plans in place, contact names readily available and even extra equipment on-hand. Speaking of "backups", backup all of your files regularly and keep several copies of your backup drives.
What are you prepared for? What aren't you prepared for? What are your backup plans?