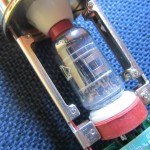 Some Like it Hot… Tube Microphones
By Dan Friedman
Questions about tube microphones come up often. So many people in the voiceover and recording industries are in search of a certain, often elusive sound, that most people describe as "warm". For some, tube microphones are the answer. "Tubes" refer to vacuum tubes. Vacuum tubes are similar to light bulbs, but designed to regulate, or control the flow of an electrical signal .
Unlike in solid-state audio equipment where signal is confined and carefully controlled, or digital equipment where everything is converted to 1's and 0's and is very precise; when used in the construction of audio equipment, tubes tend to blend the frequencies of an audio signal. This blending is known as harmonic distortion. This sound can be very pleasing, as it gives the impression of a smooth and flowing sound that isn't harsh or edgy (unless specifically dialed in to sound that way).
Generally speaking, tube microphones are not the first choice for voiceover. They can be a bit noisier than solid-state microphones and also require a bit more care and special handling. However, because questions about tube microphones come up often, I asked Michael Joly, Pete Turbiville and Matt McGlynn, three experts in the field of microphones about tube mics. These experts provided insight into the care and handling of these mics, and specifically about what is known as a "burn-in" period. Be sure to check out these industry expert's websites to learn more about them and how they may be able to you get the sound you are looking for.
Michael Joly (oktavamod.com) is a microphone design engineer with over 35 years of experience working with analog studio equipment. He is well-known for taking lower priced off-the-shelf microphones and modifying them to sound like models that are far more expensive. Here is what he had to say.
Yes, tube mics do need some burn-in and warm up. When a mic is shipped the tube gets shaken up and this causes a degree of spitting and sputtering for the first couple of days until the tube heater burns off the impurities in the electron flow and that stream of charged particles gets purged of impurities. After the initial burn-in period of several days a tube mic that has been stationary and not shaken, will warm up and behave well after an hour.
oh, the initial burn-in also helps form the capacitors and they do their job better and with less noise and artifacts after being treated to a burn in.
btw – in the old days of tubes, professional installation always left the gear on. This prevents in rush current from damaging the heaters (remember – a light bulb burns out at turn on, not while its illuminated because the cold resistance of the filament is much lower than the hot resistance thus allow much more turn on current to flow through it). And the other benefit is a lower and more stable noise floor.
– Michael Joly
Pete Turbiville (peteturbiville.com) is one of my best friends in the voiceover business. He is a great voice talent, audio engineer (with gold records on his wall) and microphone builder. I'm proud to say that he built my U47 clone that is pictured in my author's photo. Pete says:
Absolutely about letting the mic cook for a while. I'd let it go for at least 2~3 hours before expecting it to perform to specs..When you first light them up the filament heats up and expands. As the filament sits at it's operating temperature the heat it generates expands the rest of the components inside the tube. Most all specs for tubes are taken at their designed operating temperature and after a few hours. So, it's always a good idea to let the tube cook allowing the other components to expand and settle in before using it. Actually, it's best to just leave it on unless you simply have no other choice.
Just like any device, heating it up and cooling it down once a day or more is wear and tear on the tube and is detrimental to it's life and specs.
– Pete Turbiville
Matt McGlynn operates one my favorite sites on the web, recordinghacks.com.
It is the premier site for all things involving microphones. Looking for information on a certain make or model (no matter how rare)? You'll find it on recordinghacks.com using their comprehensive microphone database.
Tube microphones should be given time to warm up prior to use. The microphone will not be damaged if it is used immediately, and indeed most tube microphones will pass an audio signal as soon as they're powered up. But the tonality of the microphone will change as the tube warms up to its standard operating temperature.
I know of no scientific studies of how long the optimal warmup period is, and I imagine it would depend on the difference in the mic's "cold" temperature and the tube's operating temperature — the bigger the gap, the longer the stabilization period. In my experience, 15 minutes is enough; I don't hear significant tonal changes after that point. But if you're storing your tube mic in a 50 degree basement, then maybe you should give it more warmup time before the session.
As in all things, you'll run into a spectrum of practices and advice. I know studios that never turn their tube mics off. And I know engineers (with many album credits) who never let their tube mics warm up.
On a related note, if the mic is to be left warm for any period of time, it should be inverted so that the tube is above the capsule. This prevents the heat of the tube from drying out the diaphragms.
– Matt McGlynn
Some like it hot! Tube microphones clearly do.