Planes, Trains and The 2012 New York Voiceover Mixer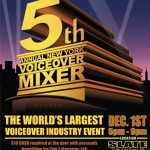 By Dan Friedman
Last year, my experience at the New York Voiceover Mixer was quite a journey. A 34 hour experience with no sleep and a whole lot of fun. This year my trip to the New York Voiceover Mixer, hosted by Voice Talent Productions and the Voxy Ladies, was equally amazing but… I did decide to get some sleep this time around.
It all began with smooth travels from Asheville to Atlanta. However, my flight out of Atlanta was going to be delayed and that meant I was going to miss lunch at Mustang Harry's. Thanks to the Delta phone app and a quick call to guest services, I was not only able to jump on another flight, I was getting in an hour earlier than I had originally planned. SCORE!
Lunch was perfect. Being surrounded by such great talent and good friends is always my favorite part of any journey.
After lunch, Peter O'Connell, Elaine Singer and I walked over to EDGE Studios. The studios were still under construction when I was there in June and they've come a long way since then. They looked great and sounded even better. The place was packed and   everyone was having a great time.
Next, it was back to the hotel for a quick shower and then off to the mixer.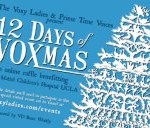 The atmosphere at SLATE was electric. Hmm, "SLATE", that is a good name for a place holding a party for voiceover talent… but I digress. Once again, Erik and Lindsay Sheppard, this year with the help of the Voxy Ladies, threw a fantastic party. There were many great prizes, The Voxy Ladies revealed details of the 12 Days of VOXmas and I had the pleasure of giving away a signed copy of Sound Advice- Voiceover From an Audio Engineer's Perspective. Later, I sat down to have dinner with Terry Daniel and his fiance' Tracy. Tracy is a photographer and an all-around beautiful person. Terry's Voiceover Club and the Voiceover Cafe are both great resources for information and advice from many industry pros.
After drinks and dinner at the Green Square Tavern and many long goodbyes, I jumped into a car with Terry and Tracy because, as fate would have it, we were at the same hotel. This was clearly an invitation to have one more drink (okay… two) at the hotel bar and another 45 minutes of great conversation. Linda Ristig was also there and she and some friends joined us until it was time to call it a night. I was teaching Audacity at EDGE Studios at 9:30AM, and that was now only a few hours away.
Sunday morning was peaceful and calm in the city. I've never actually seen it so mellow. It was nice to take in the cool morning air and walk to the studio. The students were great and I think the they enjoyed the class. While Audacity was the focus, I also like following the lead of the students. Answering their questions is always a top priority.
By 11:30AM it is was time to catch a cab… that would take me to the train… that would take me to the airport. This is where the travel "excitement" began. It turns out that my plane would get delayed by nearly an hour. By the time I got to Atlanta airport, I had exactly 20 minutes to make it from terminal A to terminal C for my flight home. To make things even more interesting, the arrival gate was nearly at the end of terminal A and the departure gate was at the VERY END of terminal C. I'm sure some of you remember the old Hertz commercial with OJ Simpson running through the airport… I was living it.
Voiceover is not an industry that requires travel. But, I definitely recommend it. Events like these… "open doors". That is why they are so important. Its that one introduction, or that one memorable moment with someone that can make all of the difference in a person's career. But even better than that, is all of the amazing new friendships that develop along the way.