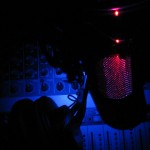 By Dan Friedman
From a whisper to a scream, Bill Thomas could do it all. There are few voices that are as big and booming and yet still as versatile as was the voice of Bill Thomas. There are even fewer people left in this industry who have the knowledge, perspective and technical skill that Bill possessed.
While Bill was often cantankerous and opinionated outside of the booth, he was also supportive and caring of those around him. He could drive people crazy and even make a person angry when he expressed his personal views and thoughts about the world. However, he never said a bad word about anyone personally. In fact, whether you agreed with him or not, he would still treat you with genuine respect, care and concern.
He was always at his best when he was in front of the microphone. I will remember him most fondly for being incredibly diverse, remarkably charming and exceptionally talented. His comedic timing, microphone technique and copy interpretation were all pure perfection. He was generous with compliments to the talent around him, including the writers, directors and engineers. He had a great ear and never complained about doing more takes if needed. He generously offered to work "until the point of diminishing returns" as we would frequently say. It was as though he never wanted to leave the mic.
I will miss working with you Bill.
I will end with the same words with which you often ended your recording sessions, "It was an honor and a pleasure."
Click below to hear the amazing Bill Thomas: