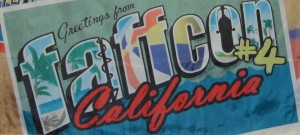 By Dan Friedman
In the past, I've tried to write Fafftermath blogs much sooner than a week and a half after the event. But, over the last week, I was still working on FaffCon; editing and working with the recordings we did with Dean Panaro for Voicebank. Between jet lag and all of my regular responsibilities, it was slow going. I'm pleased to say that I've finally wrapped it all up.
Listening back to all of the recordings has been a great experience. Like Dean mentioned several times in the session… it is all about the playback. While I work with several of you on a regular basis, it is pretty awesome to get to know nearly all of you behind the microphone as well as face to face. It really is a special privilege and just one of many reasons why I love being a part of FaffCon.
Like all FaffCons, each is very different… and they just get better and better. While I've been bringing audio gear since FaffCon2, this was the first time I was an official member of the staff (it was actually the first time we had an official staff). Being a part of planning and creating the experience was amazing. I can't say enough good things about the people who help make it all happen and let me tell you, more time, effort and attention to detail goes into it than I ever realized. That being said, I'd like to recognize the people who've shared in the planning over the last six months.
Amy Snively (and Paul and Devon), Pam Tierney, Connie Terwilliger, CC Heim, Natalie Stanfield Thomas, Kelley Buttrick, Lauren McCullough, Bob Souer (and Karen, Eric and Cinda), Peter O'Connell and Corey Snow. What can I say that I haven't told you all in person or written in the past. You are all amazing and I thank you for the wealth of experience, generosity and talent you've shared with me. It has been great getting to know each of you better, talking with all of you week after week and watching our efforts come together to make it happen. I simply can't thank each of you enough for your friendship. I love you all!

….and now some other special mentions.
Marc Cashman – You are as nice as you are talented and I meant what I said in closing circle; (paraphrasing) while I would've been a part of FaffCon no matter what, knowing you were going to be there brought my level of excitement and enthusiasm to new heights. Meeting you exceeded all of my expectations.
Cliff Zellman – I appreciate your experience, talent and support. You've become a great friend and I look forward to many years of sharing the craziness we see and hear.
Doug Turkel – We never seem to get to talk enough at FaffCon, but I like the fact that when we do, we always seem to be on exactly the same page. I know we'll be talking a whole lot more very soon.
Liz deNesnara – Within seconds of meeting you for the first time at FaffCon 2, you've been an amazing friend. You are genuine… and I always enjoy hanging out with you.
Amy Taylor – Working with you is always a pleasure. Getting to know you better and being able to call you a friend… even more so.
George Whittam – It was great to meet you and share stories with you. Who knew we had so much in common? I'm certain we can help each other and simultaneously help everyone in the industry.
J.S. Gilbert – While you're wealth of experience and talent make you a force to be reckoned with…it was great getting to also see the softer side of J.S. Gilbert. Thank you for sharing your experience, your stories and the many characters you do.
Tim Keenan, Steve Cunningham, Steve Sevanyu and Dan Lenard – It was great being on the "Ask the Audio Guys" panel with each of you (along with Cliff and George). I hope we get the chance to do it again sometime.
Diane Maggipinto – I was thrilled to give you a tip that earned a "Golden Nugget". Thank you!
Andy Curtis – It was a pleasure getting to know you and I'd love to hang out with you more… especially in Australia!
David Goldberg – Okay, we barely had the chance to hang out this time other than at breakfast, but it is always great talking to you. I'm thinking a trip to New York is in my future for this summer… I hope to see you then and I'm sure we'll talk even sooner.
Colleen Collin and Ashley Russo – Colleen, I always enjoy working with you (and Courtney) and I can't thank you enough for all of your kind words and support. Ashley, you are fantastic. I'm really excited about the future possibilities and opportunities. YOU BOTH ROCK!
Dean Panaro – Major thanks for going the distance with all of us on Friday night. I loved your insight and especially how emphatic you were about the importance of having good gear. Thank you and I hope we'll work together again in the future.
Thanks also to: Trish Basanyi, Bobbin Beam, Lisa Biggs, Tom Bromhead, Matt Cowlrick, Melissa Exelberth, Tom Dheere, Larissa Gallagher, Lee Gordon, Mara Junot, Randye Kaye, Fran McClellan, Chris Mezzolesta, Bruce Miles, Jay Patrick, Jenifer Platt, Talmadge Ragan, Mercedes Rose, Monk Schane-Lydon, Kitzie Stern, Leslie Wadsworth, Dave White, Janet Walton and everyone else at FaffCon4.
I look forward to seeing you at FaffCon5 in Charlotte, NC!