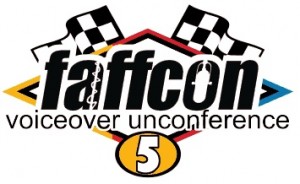 By Dan Friedman
FaffCon 5 reached the finish line, as all FaffCon's have, in spectacular fashion. I can honestly say, I think this was the best FaffCon to date. This is a VERY BOLD statement, because every FaffCon has been absolutely amazing.
In the past, following each FaffCon, I have written blogs about my experience and thanked many people for specific things that they did or what effect they had on me while we were there. I will do that here, but to a much lesser degree than in past blogs. It is simply getting too difficult to remember everyone for everything they do to make FaffCon what it is, or to express how deeply I care about everyone who touches my life before, during and after each event.
FaffCon5 was special for many reasons.
The Omni Hotel was very nice and convenient to everything. I loved getting coffee with soy milk delivered to my door every morning.
The mix of great VO people and their talent was undeniable. Their energy was electric. The fact that many attendees had experienced at least one past FaffCon, allowed everyone to get in the groove and begin faffing without hesitation. Those new to FaffCon caught the vibe as to what this event is all about and joined in quickly. For everyone, it was safe, familiar, comfortable and fun.
The fact that so many people arrived a day early to spend as much time with friends as possible, is indicative of how welcoming the crowd is at FaffCon and how close many of us have become. I went to bed after 2AM each night (3AM on one night) just so that I could spend as much time as possible with old friends and get to know new ones. Sure, I was tired every morning at 7AM, but I would not have wanted to do it any other way.
Organizationally, as a member of the "Pit Crew", I believe we are getting pretty good at this. As a simple example of how good… words really can not express what a pleasure it was to be able to sit in the lounge area with Amy Snively and watch her actually mingle with everyone. I don't recall ever seeing that during a past FaffCon… she never had the time. Much of this is due to the tireless efforts of Lauren McCullough, who kept all of us in line and on task. She did so with a sweet smile, a calm nature and heaps of positive feedback. Lauren ROCKS!
As I mentioned earlier in this post, in the past I've written an extensive list of "thank you's". My good friends, and you know who you are, already know how much each of you mean to me, how much you inspire me and that I am here for each and every one of you. I love you all. With that being said, I still have a few specific shout outs that I must make.
Joey Schaljo – It was a pleasure meeting you. I really enjoy working with you through Edge Studios. I'm grateful for the opportunity to assist Edge students and teach Home Studio Classes. While I always enjoy seeing David Goldberg… you are MUCH prettier. Sorry David! 😉

Dave White and Leslie Wadsworth – Thank you both for extending FaffCon 5 by another day. I was thrilled to be able to give you a tour of ProComm Studios and share a meal of the best shrimp and grits anyone will ever find (thanks also to Tupelo Honey Cafe).
Monk Schane-Lydon – Thank you for inviting me into your "Home Studio on a Budget"  session. Besides learning a few things and getting to know you a little better, it is refreshing to know that there are people in this business who will go to great lengths and stop at nothing to make their home studios, sound like pro studios.
Jeffrey Umberger – Thank you so much for your humor, your time and your kind words. It was great to hear that when I send you an audition, it makes you "proud". That makes me feel proud and so very grateful for all of your hard work on our behalf.
Tanya Buchanan – What a pleasure it was to shut down the bar with you for two nights. While we may have closed down that bar, it is clear that you share my passion for "raising the bar" for our industry. Please do not hesitate to let me know how I can help you with that effort.
Cliff Zellman – What can I say? Thank you for being such a great friend. I'm fired up about our ideas and I know we can bring a new level of awesome to the voiceover world. Thank you for dinner-to-go on Sunday night. When I got home… I ate it up. YUM!
Amy Snively – I'm not thanking you for making FaffCon happen. I've done that many times. I'm not thanking you for your friendship. I do that often as well. I am thanking you for the two word phrase you told me as we were sitting down preparing for everything to get started. I've got several two word phrases in response, "I can", "I will", "I am" and… "love you".
Dan Hurst – I should hand over all of my golden nuggets to you immediately.
Brother, you have no idea how much you have helped me and how much your words have inspired me. Both my present and my future are brighter thanks to you. Thank you! Thank you! Thank you!
At the closing circle of every FaffCon, we fill out postcards with personal messages that get delivered to us prior to the next FaffCon. I've always written down a personal goal that is big, yet completely achievable with hard work, perseverance and a little bit of luck… or maybe its magic. I'm very proud to say that I have met each goal. There is no finish line when it comes to FaffCon. When the event is over, the faffing continues.
FaffCon… makes magic happen.