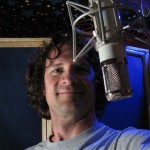 Since returning from Italy a couple of weeks ago, I've been dealing with a trademark issue regarding the name of my website. While I won't express my thoughts about the need for this change or even get into the specifics, I will say that it is great to know that my book SOUND ADVICE – Voiceover From An Audio Engineer's Perspective, my blog and my presence in the VO world are getting noticed. I greatly appreciate the kind and supportive messages I've received in response to the book and also my blog articles, both on my site and on the ProComm Voices website.
I want to take this opportunity to thank attorney and voice actor Rob Sciglimpaglia for his help with the trademark issue. A couple of days before I left town, Rob "friended" me on Facebook. I didn't know Rob, but I knew of him. I had read some of his postings on various voiceover related forums and websites. As fate will have it… Rob's timing could not have been better. When I returned from my trip, waiting for me, was a letter informing me of the trademark issue. I immediately contacted Rob. He was very helpful, friendly and responsive throughout the whole process. It is nice to know that there is an attorney who not only understands the legal issues related to our business, but also actively participates in it as a voice talent.
Change is a certainty in life. Although we don't always get to choose when a change happens or becomes necessary, it still often leads to bigger and better things. With this in mind, I'm announcing that SoundAdviceVO.com is changing its name to Sound4VO.com and my Facebook page, SoundAdvice – Voiceover, will also change to Sound4VO. Please make a note of these changes.
My mission (which remains the same) is to help voice talent everywhere sound their best and to effectively communicate the messages of my clients for whom I provide my voice. I look forward to helping voice actors with their equipment, studios, demos, and deliveries and also to sharing the knowledge I've gained from years of experience on both sides of the microphone with our industry. I love my job!