DAN FRIEDMAN – Producer, Audio Engineer, Author and Voice Talent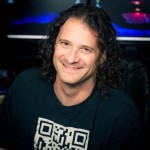 Dan lives in the beautiful mountains of Asheville, NC and is a husband and father of 2 boys. He attended five universities and had three majors before being introduced to audio engineering in 1994. Realizing his career dream, he ended his educational journey at The Recording Workshop in Chillicothe, Ohio finishing among the top 5 in his class.
After years in recording studios and in radio he began work at ProComm Voices in 2001, where he continues to work as an engineer, producer and voiceover talent. With over 11 years at ProComm Voices, he has produced, directed or provided his voice to thousands of audio productions.
In 2010 he published SOUND ADVICE- Voiceover From An Audio Engineer's Perspective. A first of its kind in the industry, the book covers audio engineering and studio session etiquette as it relates directly to voiceover talent. He continues to write a popular blog at his website: SOUND4VO.com. His ability to simplify often complex recording and audio concepts is unmatched in the voiceover industry.
He has been a featured guest on webinars for Voice Artists United with Chris Kendall, Voices.com with Ashley Rose Davidson, The Voice Over Club with Terry Daniel, Voice Over Training.org with Bill DeWees and East West Audio Body Shop (EWABS) with George Whittam and Dan Lenard. He has lead several sessions at FaffCons 2, 3, 4 and 5. He was chosen to be among the top 10 "Most Influential Voice-Over Writers in 2011" in a Voice123 online survey. Dan is also a home studio coach with Voicebank and Edge Studios.
Dan Friedman is an accomplished engineer, producer, director and author. He is also a successful voiceover talent and has been heard on hundreds of local and regional television and radio campaigns as well as many corporate narrations. His list of clients, credits and commercial campaigns continues to grow. He is currently the national voice for Moe's Southwest Grill and Hulu Plus.
Contact Dan Friedman at Dan@Sound4VO.com or call 828-551-0891
Contact Dan