Intern With Dan Friedman at Sound4VO!
Internship Overview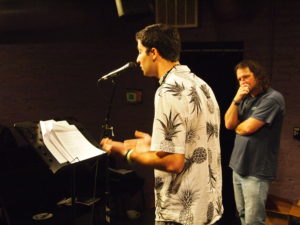 Dan Friedman is offering an exciting opportunity for the right candidate! As Marketing Assistant at Sound4VO, you will work directly with Dan at his studio in the implementation of marketing endeavors. This is a great opportunity for an actor looking for a solid footing in the voiceover craft and industry, a communications student or recent graduate hoping to learn more about audio production, a young business professional seeking experience in entrepreneurship, or an independent creative wanting to understand how to be their own business. 
Company Overview
Sound4VO is the brand name of accomplished voiceover talent, Dan Friedman. Dan is also an experienced engineer, producer, director and author. The Sound4VO studio is fully-equipped with a broad selection of microphones, multiple pairs of studio monitors, custom acoustic treatment, phone patch and the world famous Universal Audio Apollo Interface. His voice can be heard on hundreds of local and regional television commercials, radio campaigns and corporate narrations. He has been the national voice for Moe's Southwest Grill, Crowne Plaza Hotels and Hulu Plus, to name a few.
Duties
– Social media management

– Content creation, including video production, photography and content writing

– Direct mail campaigns

– Administrative support such as maintaining organized Sound4VO digital files and CRM

– Networking and outreach: building relationships with local businesses in order to bring on clients or establish new business collaborations
Qualifications
– Experience or training in marketing, branding, business, management, and/or public relations

– Practiced in sales

– Skilled in video production and editing

– Competent with social media, particularly Facebook, Instagram, LinkedIn and Twitter

– Basic understanding of SEO and WordPress
Competencies
– An interest in the craft of voiceover or audio production-related fields preferred

– A friendly, personable attitude

– Creative thinker who offers their own ideas

– Critical thinker who takes proactive action

– Strong organizational skills and writing skills
Compensation
– This is a paid internship of $10/hour, plus 10% commission on any voiceover work successfully brought to Sound4VO. Expect to work 8-12 hours per week.

– The candidate is not required to earn course credit, but will be accommodated if she/he prefers to.

– One-on-one voiceover training with renowned voice talent coach Dan Friedman is a possibility, depending on the interest level of the candidate.